Reading Time:
6
minutes
When you are looking to buy a cigar humidor, there are a few things that you need to take into consideration. The first is size. You need to make sure that the humidor is big enough to store the number of cigars that you want to keep in it. Secondly is the type of humidor. Do you want an electronic or a traditional humidor? The third consideration is the materials it is made out of.
Cigar humidors can be made out of a variety of materials including wood, glass, and metal. Finally, you need to decide on a price that you are comfortable with. You need to find the humidor that fits your budget without breaking the bank. In this post, we will discuss all of these factors in detail and help you choose the perfect cigar humidor for your needs!
Here are the most important factors to consider when purchasing cigar humidors.
Size
The first thing to consider while shopping for cigar humidors is the size you need. The size of the humidor is important because you need to make sure that it can hold all of the cigars that you want to store in it. The last thing that you want is to have to constantly refill your humidor because it is too small for your needs. A small humidor typically holds 5 – 50 sticks which is perfect if you don't smoke a lot but want to protect the cigars that you have until you need them. These humidors are relatively inexpensive and have very few features like these:
These are examples of what a small wood humidor looks like. They both are completely lined with Spanish cedar with a hygrometer and humidifier included.
A medium-sized humidor typically holds between 50-150 cigars so if you have a moderate collection or you are a casual smoker, this is the right humidor for you. These humidors have a few more features than small ones and are a little bit more expensive.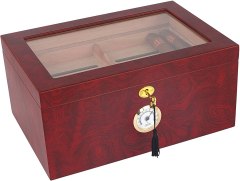 This mahogany-colored, medium size, Spanish cedar humidor holds up to 100 cigars.
On the other hand, if you are an avid cigar smoker or want to store a large number of cigars, then a large humidor is the best cigar humidor for you. A large humidor typically holds 150 or more cigars depending on the size you buy. This is the best option for cigar aficionados who want to store their cigar collection in one place. These humidors can be very expensive, but they have all of the bells and whistles that you could ever want in a cigar storage solution. The large humidor can also save you money in the long run because it allows you to take advantage of discounts available to those who buy cigars by the box.
This large, glass-top cigar humidor holds 300 cigars and has an oversized external hygrometer and two oblong humidifiers.
This large cigar humidor holds up to 200 cigars and can also hold up to 15 bottles of your favorite wine.
Type
The next thing to consider when purchasing a humidor is the type of humidor you want. The two main types of humidors are electronic and traditional.
An electronic cigar humidor uses a humidification system with a small fan that circulates air throughout the interior of the box which helps to evenly distribute humidity. These types of humidors are very low maintenance because they have sensors that monitor the humidity and temperature levels inside the box and will automatically adjust the settings as needed.
These humidors maintain a very consistent temperature and humidity level which is the best cigar humidor for aging your cigars. However, they are also more expensive than traditional humidors. Finally, electronic humidors look nice (almost like a small wine refrigerator) which means they can fit with any decor you have in the room you store your cigars.
This is an example of an electronic cigar humidor. It comes with an electronic thermo hygrometer, which is more accurate than an analog hygrometer, keeping proper moisture with the included double humidifiers.
A traditional cigar humidor is typically made with a Spanish cedar lining and does not have any fancy features like an electronic one, but it gets the job done just as well. These types of humidors rely on a sponge or other material soaked in water or propylene glycol to humidify the air inside the box. Many people have replaced this with Boveda Humidor Packets which make keeping the proper humidity much easier.
All you do is place the appropriate number of packs in your humidor and they help maintain the proper humidity. The Boveda Humidor Packets need to be replaced every few months, but other than that, there is very little maintenance required. Traditional humidors are less expensive than electronic ones, but they do require a little bit more work to keep them in good condition.
These are Boveda Humidor Packets for traditional cigar humidors. These packs range from 62% relative humidity to 84% relative humidity for seasoning your humidor. Cigar tobaccos should be kept at a relative humidity (RH) between 68% and 72% so you need to make sure you are checking your humidity levels regularly. These packets can be purchased anywhere cigar accessories are sold.
Price
The last thing you need to consider when purchasing a humidor is the price. Cigar humidors range in price from around $30 all the way up to several thousand dollars. Therefore, it is important to find one that fits your budget. The size and type of humidor you choose will have the biggest impact on the price, but there are also many other factors such as the material it is made out of, the features it has, and whether or not it comes with a warranty.
When deciding how much to spend on a cigar humidor, it is important to think about how often you smoke and how many cigars you want to be able to store in it. If you are a casual smoker who only wants to have a few cigars around, you don't need to spend a lot of money.
On the other hand, if you have a large cigar collection or are planning on starting one, then you will need to spend a little bit more. It's also important to think about what type of person you are and if you are going to be diligent in checking your humidor and maintaining your humidity. I am the type of person who would forget to check the humidity inside the humidor, so I am more likely to spend a little more for an electronic humidor. Here is an example of an expensive humidor that is made by Elie Bleu.
Elie Bleu cigar humidors are made of solid wood and handcrafted in Paris France. They also come in vibrant colors like this: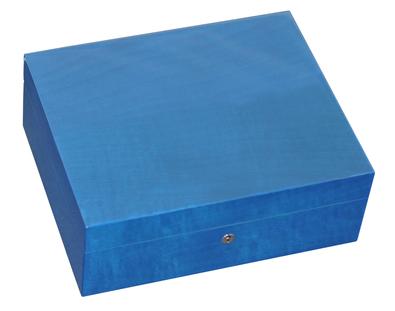 This humidor is priced at around $2200.00
Where do I get my cigar humidor?
Once you have decided which cigar humidor is best for you, then you need to find one that meets these criteria. The beauty of the internet is you can look around all over the world for the humidor that fits your needs. I suggest you start online first before running down to one of your local stores that sell tobacco-related products. Places that sell cigarettes typically don't sell the best cigar humidors. Look for a company that specializes in cigars and can answer questions you have is best.
Purchasing a cigar humidor is a big decision and one that you should take your time with. Make sure to do your research so you end up with the best possible product for your needs. Cigar humidors are not cheap, but they are definitely worth the investment if you enjoy smoking cigars.
I hope this guide has helped you in your decision-making process and you find the perfect humidor for your needs. I am always happy to help fellow cigar smokers!
Happy smoking!